The purpose of CPMen is to bring men together to equip them to live an effective, impactful, purpose-driven life for their families, church and community.
CPMen is comprehensive ministry designed to encourage relational and spiritual growth.
For more information please contact CP|Men HERE.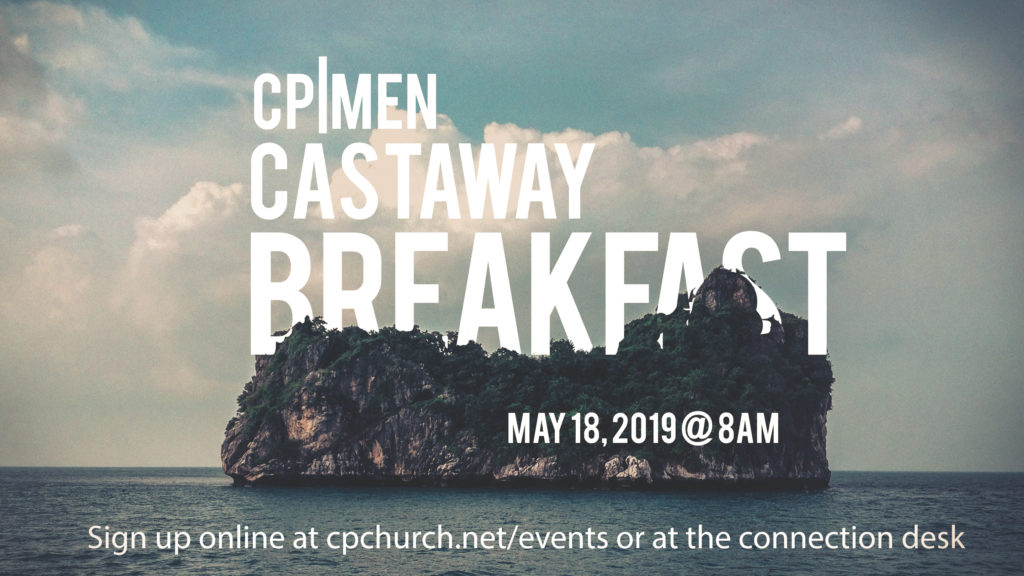 Save the Date
CP Men
– Cast Away BreakfastSaturday morning May 18th 8 AM
Join us for a really extraordinary CP Men's outing that will test your survival skills to the very core!
CP Men will be marooned on an island (
for the morning anyway
) where we will have to fend for ourselves (
get through breakfast)
.
The CP Men will wash up on castaway island for fellowship, breakfast consisting of all the fixin's, …did I mention we will eat from paper plates and use plastic sporks….
really roughin it!!!,
You can bring a kayak, a surfboard, a couple of 2 x 4's, a boat or whatever floats in order to get to the island…(no worries if you don't have something that floats we will be ferrying guys on boats to and from the island)
After breakfast, you can explore the island, fish, kayak or just enjoy sitting back and hang out with the other guys.
There will be a fishing tournament where the
coveted CP Men – Golden Guppy
will be awarded. Trophy awarded for biggest fish caught (certain rules apply).
Cast Away Breakfast Float Plan:
(that means "the game plan" for you landlubbers):
Date
: Set sail on
Saturday May 18th Time:
We will begin to ferry guys across to the island at 8AM (SHARP)
(Breakfast will be served at 8:30AM so you need to be marooned on the island by 8:30)
Launch from: Christenson's Landing Boat Ramp, 5355 US-1, Grant-Valkaria, FL 32949 Far right-side docks
Destination
: Cast Away Island (it is directly across the boat ramp, approximately 2 football fields away)
Cost $10 – left over proceeds go to the CP Men ministry fund
You are encouraged to bring your kayak, boat or whatever floats
Transportation to and from the island will be provided for all others
You may also want to bring:
Fishing gear
Folding chairs (there are no seats and table on the island…remember we are cast-aways)
Wear water shoes
Pair of water shorts ….(just in case)